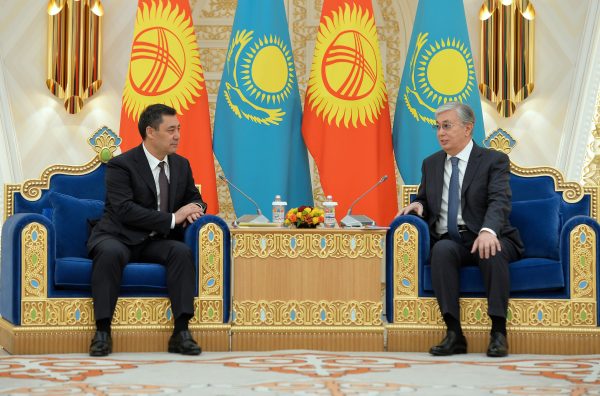 A look from Kyrgyzstan – the diplomat
Crossing Asia

|

safety

|

Central Asia

By supporting the CSTO intervention in Kazakhstan today, the Kyrgyz President Sadyr Japarov may hope to secure similar CSTO support in the future.
It is the fifth day since the protests began in Kazakhstan, which turned violent in the past few days when the government shut down the internet. Here in neighboring Kyrgyzstan, people have now actively expressed their concern about the crisis next door on various social networks.
The mood is as if the riots were going on here.
People are very emotional when they express their support for our neighbors who we see as a brother nation. Hence, news that the Kyrgyz army would join the coalition of the Collective Security Treaty Organization (CSTO) to assist the Kazakh government forces in the fight against what they termed "foreign terrorists" was immediately and widely condemned .
People in Kyrgyzstan started to sign a petition against participation and a number of activists protested outside the main government buildings in the capital, Bishkek. Kyrgyz also fear that participation in the CSTO mission could lead to a rift between two neighboring states. They called on the President and Parliament not to send Kyrgyz soldiers to support the corrupt Kazakh dictatorship against their people. You see in the CSTO a weapon of the Russian President Vladimir Putin, with which Russia can wage proxy wars in order to strengthen dictatorships in the former Soviet satellite states.
Kyrgyz also note that the CSTO rejected Bishkek's requests for support during the interethnic conflict in 2010 and when the Tajik army attacked Kyrgyz civilians in neighboring villages last year. Activist lawyers point out that the CSTO's intervention mandate is aimed at situations where aggression by a foreign state occurs, which is clearly not the case now.

Kazakh However, President Kassym-Jomart Tokayev requested CSTO intervention, claiming that the country is experiencing not only domestic social unrest, but aggression by "foreign terrorists".

On January 7, the Kyrgyz parliament approved President Sadyr Japarov's proposal to send Kyrgyz troops to Kazakhstan as part of the CSTO coalition. The president may feel obliged to do so, understanding that his own country is notorious for its numerous revolutions. Revolutions and protests have overthrown three Kyrgyz presidents in 30 years, and Japarov must know that he may face the same fate. As such, he can hope that by supporting the CSTO intervention in Kazakhstan today he will secure similar CSTO support in the future.
For Russia, the Kazakhstan crisis is an opportunity to flex its muscles ahead of the talks on Ukraine next week with Western leaders. It is also an opportunity to strengthen the role of the CSTO, as this will be the organization's first military intervention. So far, the CSTO was mostly a symbolic anti-Western body without much weight on the international stage. The Kazakhstan crisis is a prime example of how Russia can quickly mobilize forces when the regimes favored by Moscow are threatened.