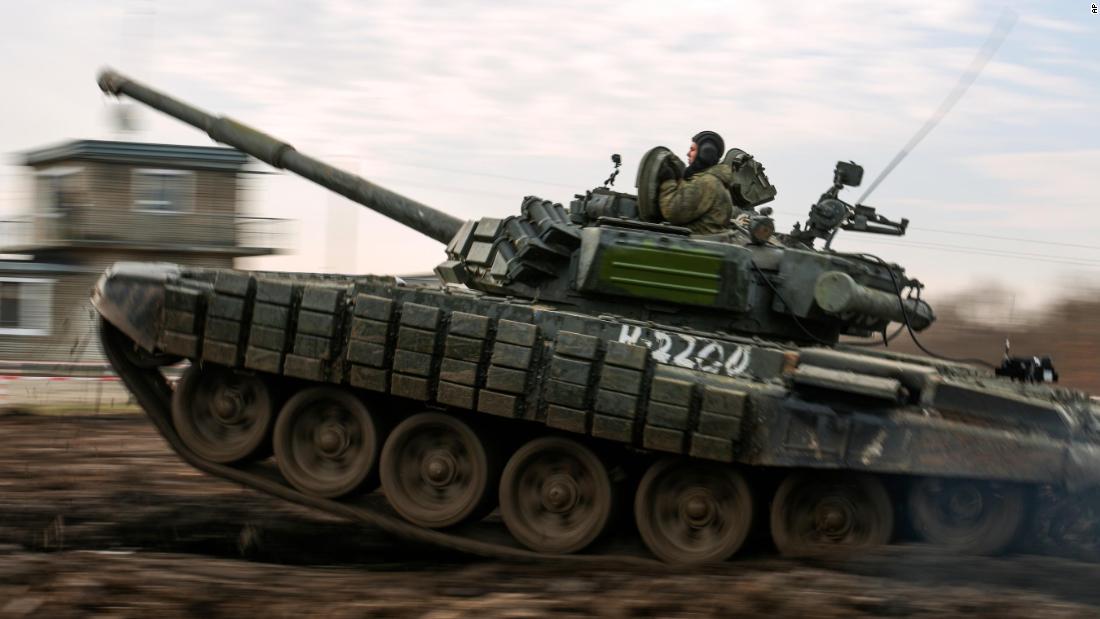 Border crisis in Ukraine: USA and Russia hold high-level talks
Sherman met with Russian Deputy Foreign Minister Sergey Ryabkov on Monday for the first of three bilateral talks scheduled for this week. She told reporters that the meeting was "open and direct" but that it was too early to say whether the Kremlin was serious about diplomacy.
"I don't think we know the answer to that," Sherman said when asked if the US had any indication that Russia was ready to de-escalate on the Ukrainian border. "We'll see if Russia actually understands that the best way to conduct diplomacy is to ease and de-escalate these tensions."
Ryabkov told reporters after the meeting that despite American concerns about Russian troop build-up along the Ukrainian border, Moscow had no intention of launching a military operation.
"We have told our colleagues that we have no plans to attack," he said. "All combat training for the troops is carried out on our national territory and there is no reason to fear an escalation scenario in this regard."
Sherman said the US had "certainly urged Russia to de-escalate," adding, "but we'll see." She said the US hadn't set specific schedules for anything.
Sherman said the US defines de-escalation as Russia returning its thousands of troops to their barracks on the border with Ukraine or explaining what exercises they are conducting and what their goals are. The Russians told the US that the march of troops at the border was not a harbinger of an invasion, she said.
"I don't think it would surprise you to hear that Russia actually said to us, as it publicly said, that it does not intend to invade, these are just maneuvers and exercises," Sherman said. "And they can prove they have no intention by de-escalating troops and bringing them back to the barracks," she said.
High Stakes Talk Week
Monday's talks were the first of three meetings held this week, with NATO talks with Russia in Brussels on Wednesday, followed by talks between Russia and the Organization for Security and Co-operation in Europe in Vienna on Thursday.
The US and Russia had "useful talks" on Monday, Sherman said, but they did not negotiate details. Sherman said the US delegation had pushed aside Russian proposals that were "simply inappropriate", such as Russia's request ahead of this week's meetings that NATO pledge never to admit Ukraine, and said that "we will not allow it." that closed NATO courts to open door policy. "
Sherman reiterated that without these partners in the room, the US would not have any discussions about Ukraine or Europe.
Ryabkov described the talks as "business-like" and "professional". He said, however, that there had been no progress with NATO, where he reiterated Russia's demands for "iron" guarantees that NATO would not expand further east and never accept Ukraine.
"To the central question, not to expand NATO, my answer would be an apartment and not a plan: no progress," said Ryabkov. "And that's one of the biggest problems before. And I would say the rest largely depends on what exactly will happen at this point in the future."
Sherman said the US delegation has expressed its openness to discuss the future of certain missile systems in Europe, modeled on the now-repealed Intermediate Range Missile Treaty (INF), and ways in which the two sides can "limit the size and scope of each other." Military exercises "and to improve the transparency of these exercises.
She noted that both the US and Russia understand that issues as complex as arms control will take more than a few days or weeks. Sherman said the US would hold further talks with the Russian government after the multilateral talks this week.
Deputy National Security Advisor Jon Finer told CNN's Jim Sciutto on Monday after talks concluded that he "sees no situation where the US is pulling out of talks with Russia" even if Kremlin officials take positions during this week's discussions who are considered a non-runner by the US.
"Russia posted non-starting positions and said that other things that we believe are some areas in which we can work to make progress and that we will find out later this week "said Finer.
US secretly approved US $ 200 million for aid to Ukraine
In late December, the Biden government tacitly approved an additional $ 200 million in security aid to Ukraine, according to four people familiar with the matter.
The security package authorized the shipment of much of the same defense equipment the US has provided in the past, including small arms and ammunition, secure radios, medical equipment, spares and other equipment. The package was approved just weeks before US-Russia talks began.
The government silently informed Congress of the new permit earlier this month, two of the people said. Some officials learned about it through secret channels, two sources added. Shipments of the equipment are likely to take some time – a $ 60 million shipment of equipment approved last summer is only near completion, a State Department official told CNN.
The State Department said that weapons had been delivered in the past few weeks and that aid was continuing, but declined to discuss details.
"I will not go into every installment and update of the security aid. The point is, we provided Ukraine with more security aid last year than we have ever done since 2014. last few weeks, and more are planned for the coming weeks, "said a Foreign Ministry spokesman.
In contrast, the Ministry of Foreign Affairs has previously commented on specific details regarding the additional security support that has been approved. In this case, the Biden administration appeared to be keeping this new package out of the spotlight ahead of this week's talks, two Congressional sources said.
The National Security Council referred CNN to the State and Defense Departments for comment. The Pentagon did not respond to requests for comment.
By mid-December, the US had provided Ukraine with more than $ 450 million in security aid, a White House official told CNN at the time. By the end of the year, the government had shipped new javelin missiles and command launch units, island class patrol boats, first aid kits, safe radios, electronics, medical equipment, motors, generators, spares and other equipment, the official said.
Foreign Minister Antony Blinken told ABC on Sunday that the government of Ukraine had "only continued to provide defense aid in the last few weeks" and that "if there is any further aggression by Russia against Ukraine, we will see more of that."
A source trusted with the help said it was not a game changer and would not be enough to serve as a major obstacle to a Russian invasion. The Ukrainians have made it clear to the US that they want more security aid – beyond the defensive weapons already provided, the source said.
Breakthrough unlikely
The world community will closely follow the discussions that have been termed a belated attempt to avert war on Europe's eastern flank.
Still, on the eve of the talks, Blinken downplayed the prospect of a breakthrough. "It is difficult, in an atmosphere of escalation with a gun to the head of Ukraine, to make actual progress instead of talking. So if we really want to make progress, we have to see de-escalation. Russia is withdrawing from the threat it currently poses to Ukraine, "Blinken said in CNN's State of the Union on Sunday.
"We are here because Russia has repeatedly aggressed its neighbors over the past decade – Georgia, Moldova, Ukraine in 2014 and now the renewed threat to Ukraine today," he added.
"It's not about making concessions either. It's about seeing whether there are things in the context of dialogue and diplomacy that both sides, all sides can do to reduce tension," said Blinken.
On Sunday, Sherman and Ryabkov held a "difficult but business-like" dinner ahead of Monday's official meeting, Ryabkov told state-run RIA Novosti news agency.
The State Department's dinner reading said Sherman "underscored the United States' commitment to the international principles of sovereignty, territorial integrity, and the freedom of sovereign nations to choose their own alliances".
Up to 100,000 Russian soldiers are gathered near the Ukrainian border, despite warnings from US President Joe Biden and European leaders of the grave consequences should Putin continue with an invasion. And the findings of the US secret service estimated last month that Russia could start a military offensive in Ukraine "as early as 2022".
In a phone call earlier this month, Biden told Ukrainian President Volodymyr Zelensky that the US and its allies "will react decisively if Russia continues to invade Ukraine".
Mick Krever, Nic Robertson and Alex Marquardt from CNN and contributed to the coverage.