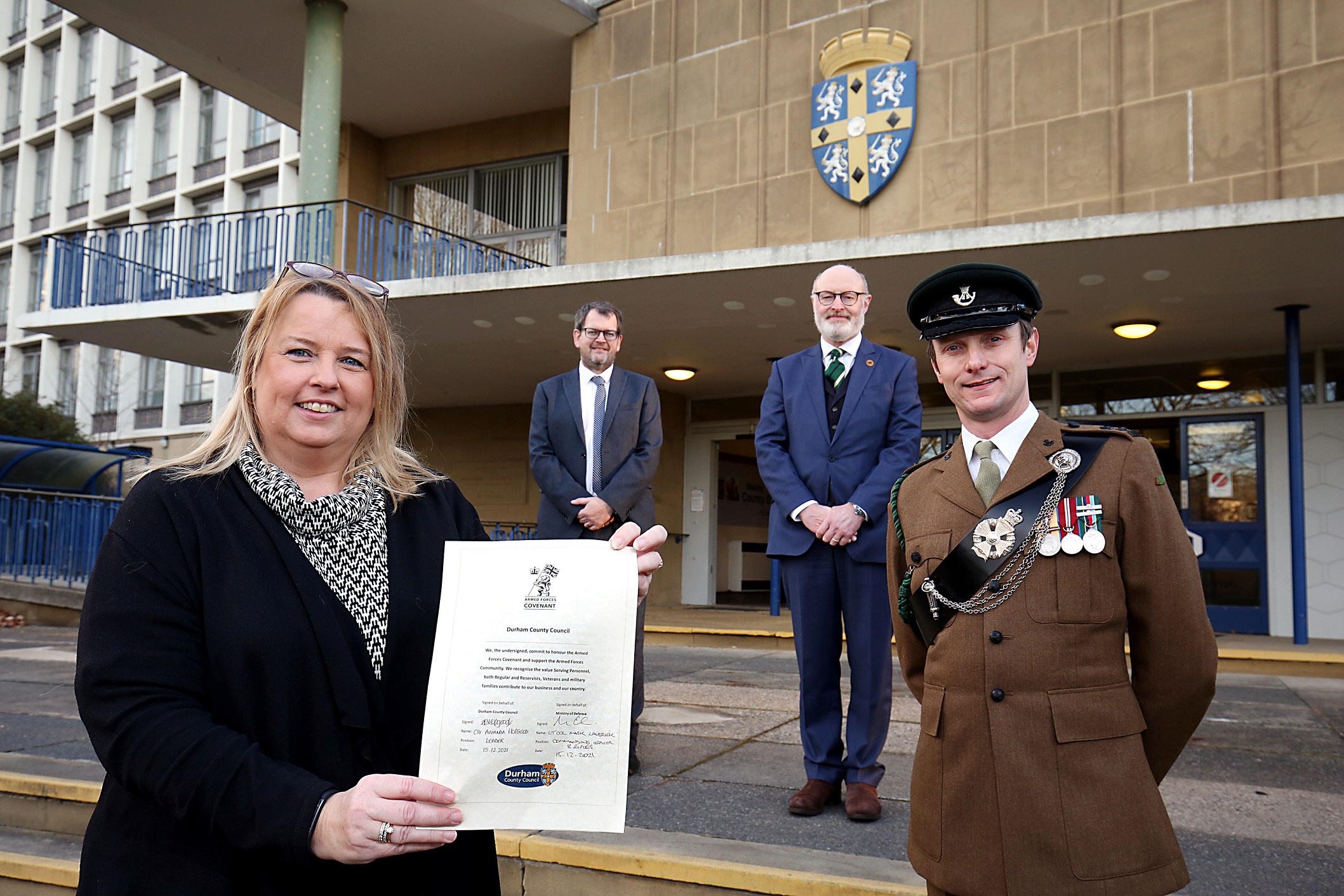 Council Supports the County Durham Forces Community – Durham Magazine
The largest council in the Northeast has reaffirmed its support for the armed forces, veterans and their families by re-signing the armed forces treaty.
Durham County Council first signed a localized Armed Forces Community Covenant in May 2012, pledging to ensure that those who serve or have served and their families are treated fairly and not disadvantaged in access to public services due to their military service.
This week the council demonstrated its continued commitment to support the Durham armed forces community by signing an updated agreement. The pact complements the National Armed Forces Pact, which is a promise by the nation that those who serve or have served in the armed forces and their families will be treated fairly.
Since the original agreement was signed, the Council has taken a number of proactive steps to meet its commitments and to follow best practices as a supporting employer and service provider.
The introduction of an armed forces forum encourages the Council; Durham Police Department; Durham and Darlington Fire and Rescue Services; and the NHS to work with the armed forces, their families and charities. By working together, the forum's partners are better able to take positive action to prevent individual disadvantages.
The council has put in place guidelines that allow up to ten days of paid leave to allow staff who are reservists or uniformed adult volunteers to attend their annual training. A program has also been put in place to ensure that veterans who meet key criteria in the job vacancies are guaranteed an interview.
Durham County Council works with Gateshead Council, Newcastle City Council and Northumberland County Council to provide funding for an armed forces outreach service. The service provides assistance to service members, reservists, veterans and their families and, in collaboration with organizations such as the Royal British Legion and Citizens Advice, provides advice on housing, income, pensions and armed forces benefits.
In 2018, Durham County Council's positive attitudes and policies toward serving and former members of the armed forces were recognized with a Gold Award in the Department of Defense's Employer Recognition Program.
The re-signing of the Armed Forced Pact shows the Council's offer to continue providing this assistance to the army community in the county while supporting activities related to Armed Forces Day, Reserves Day, and Memorial Day.
Cllr Amanda Hopgood, Chair of Durham County Council, said:
"We are excited to re-sign the agreement to show our support for the armed forces community. The promise to ensure that those who have served in the armed forces and their families are treated fairly is an important commitment that we are proud of. "
For more information on the Council's Assistance to the Armed Forces, Veterans, and Their Families, please visit www.durham.gov.uk/armedforces.