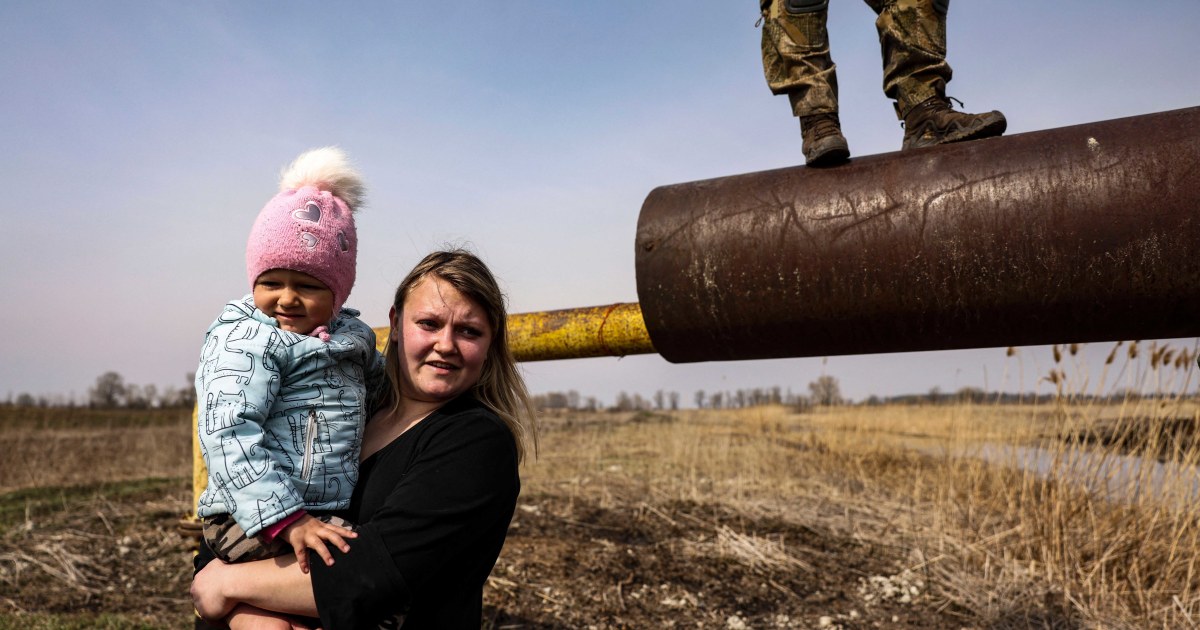 Evacuations are set to begin in Mariupol as talks resume
China says 'nobody has the right to split the G-20'
China's Foreign Minister Wang Yi on Friday reiterated China's opposition to Russia's expulsion from the G-20, saying "Nobody has the right to split the G-20."
The G-20 should "focus on coordinating macroeconomic policies and not become politicized," he said at a meeting with Indonesian counterpart Retno Marsudi, according to a statement from his office.
Indonesia holds the rotating presidency of the G-20.
President Joe Biden has said Russia should be removed from the G-20 over its invasion of Ukraine, while China has repeatedly expressed opposition to such a move.
The Red Cross was prevented from bringing aid during Mariupol evacuation efforts
The International Committee of the Red Cross said it was being blocked from bringing aid to Mariupol to evacuate civilians from the besieged port city.
The ICRC said it had a team of three cars and nine staff driving from Zaporizhzhia to Mariupol to help with the safe crossing on Friday.
"These efforts have been and are extremely complex," it said, adding it was still not clear whether Friday's evacuations could move forward.
The organization said it did not get approval to bring aid to Mariupol in the convoy, despite a growing humanitarian crisis in the city, which has faced heavy shelling for more than a month as residents continue to be unable to access basic necessities, including Food and water denied is .
"We are running out of adjectives to describe the horrors suffered by the residents of Mariupol. The situation is appalling and deteriorating and it is now a humanitarian necessity for people to be allowed to leave and relief supplies to be let in," the ICRC said.
Russia blames Ukraine for the explosion at an oil depot in Belgorod
A Russian official has attributed the explosion at an oil depot in his city of Belgorod on Friday to an airstrike by two Ukrainian helicopters.
Vyacheslav Gladkov, the governor of Belgorod near the Ukrainian border, said a fire at the depot was the result of "an airstrike by two helicopters of the Armed Forces of Ukraine that entered the territory of Russia at low altitude."
No one was killed or injured in the attack, he added in a statement on his official Telegram channel.
While footage verified by NBC News on Friday showed a large fire and plumes of black smoke at the oil and natural gas storage facility in Belgorod, NBC News could not independently confirm claims that Ukrainian forces were responsible. The Ministry of Defense of Ukraine did not respond to NBC News' request for comment on the allegations.
The allegation, which marks the first time that Russia has accused Ukrainian forces of launching an airstrike on Russian soil, follows warnings from Western powers that Moscow may stage "false flag" attacks in order to start or escalate the conflict justify.
Australia is sending armored vehicles to Ukraine at Zelenskyy's request
The Australian Prime Minister has announced that his country will send armored vehicles to Ukraine at the request of Ukrainian President Volodymyr Zelenskyy.
"We're not just sending our prayers, we're sending our weapons, we're sending our ammunition, we're sending our humanitarian aid, we're sending all that and body armor and all those things," Australian Prime Minister Scott Morrison said at a press conference Friday.
Selenskyj had specifically asked for armored vehicles during a video address on Thursday in front of the Australian Parliament.
Morrison said he could not yet say how many armored vehicles would be sent to Ukraine or provide details on when the transfer would take place. He said details would be confirmed soon.
Russia continues to "partially" withdraw troops from the Kyiv region, Ukrainian officials say
Russia continues to withdraw part of its troops from the northern region of Kyiv, the military administration of the Ukrainian region said.
The administration said in a telegram mail Friday that troops appear to be "partially" retreating toward Ukraine's border with Belarus.
It said the movement of equipment columns had been noticed, with convoys also containing "civilian vehicles" stolen "during the temporary occupation of the territories".
NBC News was unable to independently verify the reported movements.
Red Cross "on its way" to facilitate the evacuation of Mariupol
The International Committee of the Red Cross in Ukraine said it was "on track" to facilitate the safe exit of civilians from Mariupol, the besieged port city where tens of thousands are trapped in dire humanitarian conditions.
"We are currently en route from Zaporizhia to Mariupol to ensure safe passage for civilians desperate to flee the city," an ICRC official said in a video posted to Twitter on Friday.
It comes after Ukrainian officials said evacuation buses were blocked from entering Mariupol on Thursday and aid supplies are also set to be blocked from reaching the city this week.
Mariupol has been under heavy shelling for more than a month, with residents trapped in the city without access to basic necessities like food and water.
Five humanitarian corridors are scheduled to open in the Luhansk region on Friday, the governor says
Five humanitarian corridors are scheduled to open in the Luhansk region on Friday, the region's governor said on Telegram.
According to Serhiy Haidai, Luhansk regional governor, evacuation is being organized from six towns and villages.
However, he said the Ukrainian side is still waiting for a ceasefire from the Russians to open the corridors. "Fire on their part continues," Haidai said.
The governor said that 52 people had already been evacuated from Kreminna and would be transferred to trains in Sloviansk, Donetsk region.
A wounded Ukrainian soldier awaits treatment in a room at the military hospital in Zaporizhia on Thursday.
According to Ukrainian officials, Mariupol relief efforts have been blocked due to a renewed wave of evacuations
Ukrainian officials have accused Russian forces of preventing aid from reaching the besieged port city of Mariupol, where new evacuation efforts are expected to begin today.
Petro Andryushchenko, adviser to the Mariupol mayor, said Friday morning that Russian forces are blocking the delivery of aid to Mariupol. "The city remains closed for entry and it is very dangerous to leave with your own transport," he warned on Telegram.
Russia had earlier agreed to a humanitarian corridor from Mariupol to Zaporizhia, with the International Committee of the Red Cross in Ukraine standing by to facilitate evacuations.
On Thursday, Ukrainian Deputy Prime Minister Iryna Vereshchuk said a convoy of 45 buses was also blocked by Russian forces. "The occupiers did not let 45 buses that we sent for evacuation to Berdyansk," she said.
Andryushchenko said officials had yet to see "a genuine desire on the part of the Russians… to allow Mariupol residents to evacuate to Ukrainian-controlled territory."
Ukrainian forces are retaking villages south of Chernihiv as strikes continue, Britain says
Ukrainian forces have recaptured two villages south of Chernihiv, which lie on one of the main supply routes between the northern city and Kyiv. This was announced by the British Ministry of Defense on Friday.
Both Sloboda and Lukashivka were recaptured, it said.
The Defense Ministry said Ukraine, meanwhile, continued to conduct "successful but limited" counterattacks against Russian forces east and north of Kyiv.
Both Chernihiv and Kyiv have faced "continued air and missile attacks," the statement added, despite Russia's claims that it is reducing activity around both cities.