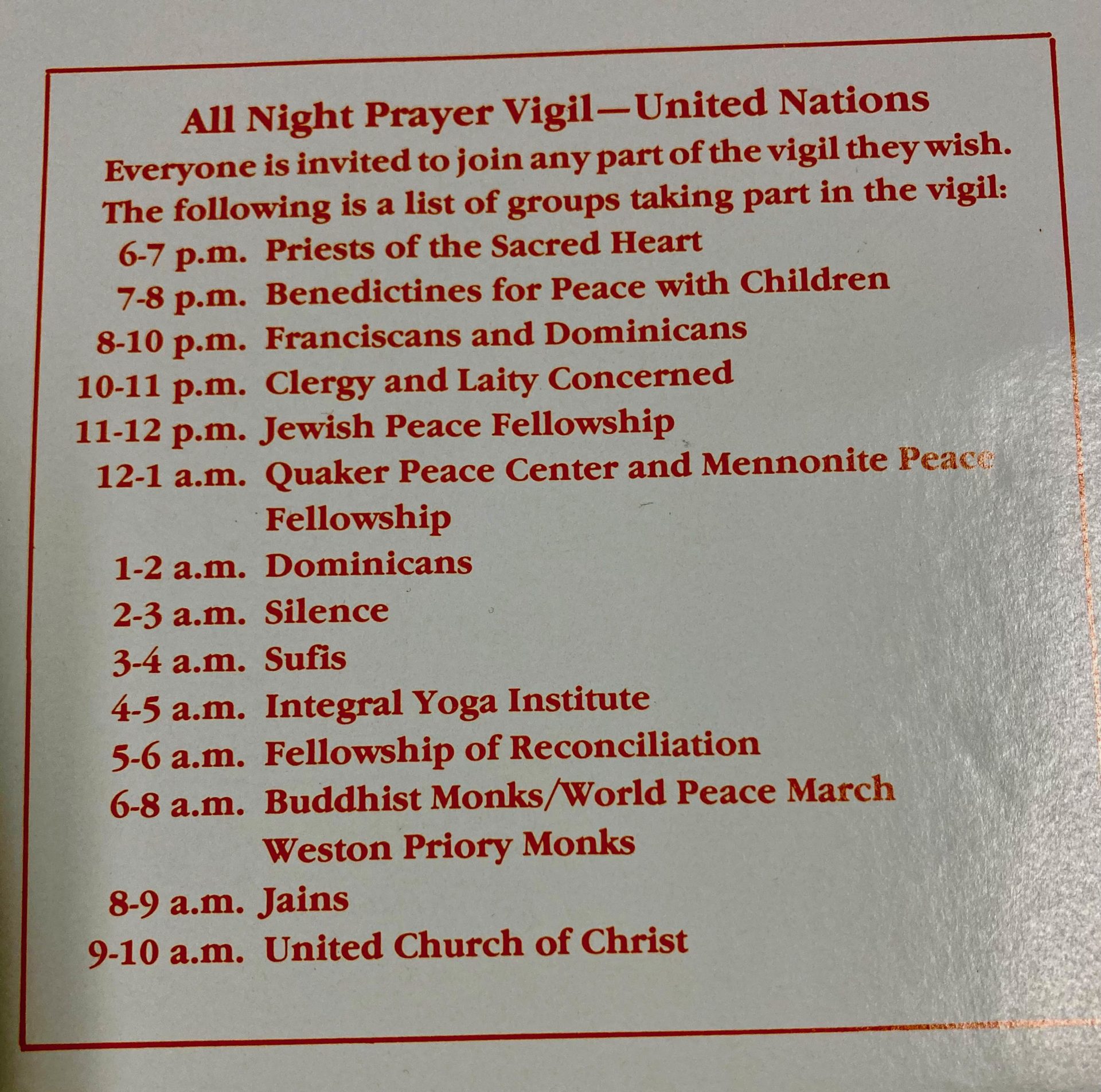 Faith leaders of all faiths from around the country and world gathered on June 11, 1982 at the Cathedral of St. John the Divine in NYC.
This was not a one-off phenomenon, but a carefully orchestrated event involving decades of participation and planning. The June 11 gathering became an important part of a week dedicated to liberating the world from nuclear weapons. A week put together by numerous organizers banding together, many under the banner of Mobilization for Survival (MFS), founded in 1977 by veteran activists, and the Freeze campaign (transformed from SANE of the 1960s) and other movements , dedicated to ending both nuclear power and nuclear weapons and war.
Reverend Paul Mayer was the most highly qualified person to lead the Religious Task Force, the organizers of June 11th, a specific branch of the MFS. In early 1978, one by one, he began writing and calling faith leaders across the country. Over decades of activism, he had built trust with allies from other causes. No faith was left out and all became part of this wonderful team that lives on in our hearts today.
Rev. Mayer was a true natural born into this selfless ministry as a Jewish refugee from Nazi Germany. As a 6-year-old child, he witnessed his synagogue burn down. This encouraged him early on in his commitment to co-founding Children of War and helping teenagers cope with surviving wars.
After his death in 2013, Felton Davis of the NYC Catholic Worker recorded and published one of Rev. Paul Mayer's consistent anti-nuclear speeches at a demonstration here on March 28, 1981, the second anniversary of Three Mile Island. Listen to his voice:
To get a feel for the build up of the Religious Task Force for the June 11 event, this is taken from their 1979 flyer: "Despite the declaration of the recent UN Special Session on Disarmament [1979] that his discussions would give "a strong impetus for the use of disarmament". the arms race continues and escalates. The development of new strategic first strike weapons makes nuclear war more imminent than ever……Nor have the six thousand US-USSR limitation and disarmament talks since World War II dismantled a single nuclear weapon…..
This deadly radioactive legacy will be passed on to the children of generations to come, a legacy imposed by force that cannot be reversed….
Thus, through a new king of the demonic counter-creation, the very ecosystem—this earth that God calls "good" and "very good"—would be turned into a radioactive wasteland."
The 1979 Religious Task Force leaflet then essentially spelled out the exact language of today's new international law, the Treaty on the Prohibition of Nuclear Weapons.
"STOP THE TESTING, RESEARCH, DEVELOPMENT AND PRODUCTION OF NUCLEAR WEAPONS.
…. STOP TRANSPORTING NUCLEAR MATERIALS EXCEPT THOSE CLEARLY INTENDED TO PROTECT HEALTH."
This simple Religious Task Force flyer, one of several three years ahead of the June 11 grand gathering, begins with the words: "In the name of world survival, we say stop! In the name of the Spirit of Life, we call on all people of good will to demand an immediate nuclear moratorium from our government, as an example to other nations and as a first step towards human survival."
The Religious Task Force then calls for "safe, clean sources of energy" (neither is nuclear power). And calls for "the economic transformation of jobs in the military and nuclear industries into those that bring impetus and benefit to the humanities."
But, of course, our empire has not proven to be the leader of a state "by, by, for the people." Time and time again, the nations of Earth have had to rise up to protect the whole, this time with the TPNW, which includes protecting our own US, in defiance of ourselves, and the grossly irresponsible other nuclear states and allies who support the industry.
The TPNW is a magnificent echo of the June 11, 1982 Convocation, which amassed many decades of direct evidence from those who best know the world's realities and human implications of the nuclear weapons industry. The new treaty was the answer to that convocation, to that deepest prayer and plea of ​​humanity since awakening to the first armed nuclear blast on August 6, 1945.
The signatories listed here are only a very partial list of members of the Religious Task Force compiled by Rev. Mayers and others since 1978. Not only did they gather to announce the June 11, 1982 assembly in the cathedral, but they had collected and made numerous public statements leading up to it, such as their 1979 "Religious Call for a Nuclear Moratorium" three years earlier.
Many below were at this work for decades prior to the June 1982 achievement and continued until they left the world. In the last decade of his life, Rev. Paul Mayer, who led this Religious Task Force, dedicated himself to the cause of justice on earth, the climate and a sustainable planet. He co-founded the Climate Crisis Coalition in 2003. Just months before his death, he was arrested again in 2012 while campaigning for fair shelters for the homeless. These souls knew the connection between militarism and the health of humanity and our biosphere:
Dorothy Day, The Catholic Worker
Right Rev. Paul Moore, Jr. Bishop of New York
dr Muhammad Abdul-Rauf, Director, Islamic Center, Washington, DC
dr William Sloan Coffin, Jr Riverside Church
Bishop Thomas Gumbleton, President of Pax Christi
dr William Jones, President, Progressive National Baptist Convention
Sr. Andrea Lee, President of the National Coalition of American Nuns
Chief Beeman Logan, spiritual leader of Seneca
Alice Papineau, Eel Clan Mother, Onondaga Nation
Rabbi Ely Pilchik, Central Conference of American Rabbis
Rev. Timothy Mitchell, Chairman of the National Conference of Black Churchmen
dr Joseph Lowry, President of the Southern Christian Leadership Conference
Swami Satchitananda, Founder of the Institute for Integral Yoga.
Reverend Hozen Seki, New York Buddhist Church
Monks of Western Priory, Vermont
Jim Wallis, Sojourners
Reverend Raymond Rivera, Hispanic Council, Reformed Church in America
Rev. Antonio Stevens-Arroyo, Vice President, PADRES
dr Eugene Stockwell, Assistant General Secretary, National Council of Churches
Rev. William Howard, President of the National Council of Churches
Dwight Spann-Wilson, Executive. Dir. General Conference of Friends.
Barbara Zanotti, Women's Ordination Conference
Bishop Frederick Wertz, President, Global Ministries, United Methodist Church
Br. Daniel Berrigan, SJ
Peggy Billings, Ass. General Secretary, Board of General Ministries, United Methodist Church
Robert Alpern, Director, United Universalist Association
Rev. John Collins, Co-Director, Concerned clergy and laity
Sr. Blaise Lupo, Co-Director, concerned clergy and laity
Sr. Theresa Kane, SM President, Women Religious Leadership Conference
Rev. Richard Deats, Exec. Sec., Fellowship of Reconciliation
Rabbi Jerome Malino, President of the Central Conference of American Rabbis
Rabbi David Saperstein, Chair, Interfaith Coalition on Energy
Sr. Mary Luke Tobin, Thomas Merton Center for Creative Exchange (Monk T. Merton was one of our clearest voices for nuclear disarmament from the 1950s until his assassination in 1968)
dr George Webber, President of the New York Theological Seminary
Rev. Paul Mayer, Religious Task Force, Mobilizing for Survival
(etc etc)
The New York Times quoted the Religious Task Force's message at one of the interfaith meetings in 1979: "A call for a nuclear moratorium is a radical expression of our hope that there is still time for a deep spiritual conversion from our present values ​​into something new."
Faith leaders urged a march on Washington DC the following Sunday in protest against nuclear power and weapons.
The article continues with Rev. Paul Mayer: "The greatest moral and ethical problem facing religious people is undoubtedly the nuclear crisis. It is symbolic of the entire spiritual crisis of our century. With the threat of nuclear energy and weapons, it has become clear that we are now in the realm of the demonic."
Bishop Paul Moore of the Cathedral of St. John the Divine spoke up, adding that an initiative by religious groups must focus on "a peace movement so profound that it touches the source of the evil of the arms race." He criticized that "spending billions and billions of dollars on defense is raping and killing the poor."
In the years leading up to the June 1982 events, it was clear to the various organizers that there would not be just one series of events to cater for different needs and styles. All would plan to attend the June 12 rally together, but before that a religious gathering on June 11. For those who believed that decades of negotiations and talks were going nowhere as murderous weapons only escalated, a day of nonviolent civil disobedience, Blockading the Bombmakers, was declared on June 14. Those involved in civil disobedience would need to complete nonviolent training beforehand.
There were vigils and actions on the eve of the June 7 UN special session and workshops and training in the weeks leading up to it. The year-long peace march ended with the arrival at the gates of the UN on June 7th for the opening of this second special session on disarmament. The march's inspirer, Fuji Guru, attended the cathedral gathering on June 11 and addressed the crowd in Central Park on June 12. These monks along with other faith leaders participated in civil disobedience and prayed on June 14.
After the June 11 gathering at the Cathedral, the thousands marched all together to Central Park. They planted a tree and held a sacred blessing of the tree and life on earth. The Religious Task Force also organized a night vigil in front of the United Nations. Each hour of the night a different faith organization was responsible. Any and all were always welcome to attend this vigil that introduced us to the famous historic June 12 gathering to end nuclear weapons.
The Cathedral of St. John the Divine also hosted a series of ten consecutive weeks of keynote speakers on disarmament, entitled "Disarmament or Nuclear Holocaust?" in preparation:
Some of the notable keynote speakers were:
Rev. J Bryan Hehir of the National Conference of Catholic Bishops
Admiral Hyman Rickover, May 9, 1982
dr Helen Caldicott, May 16, 1982
Kurt Vonnegut, May 23, 1982
Mrs. Coretta Scott King, June 6, 1982 (the day before the opening of the UN session on disarmament)