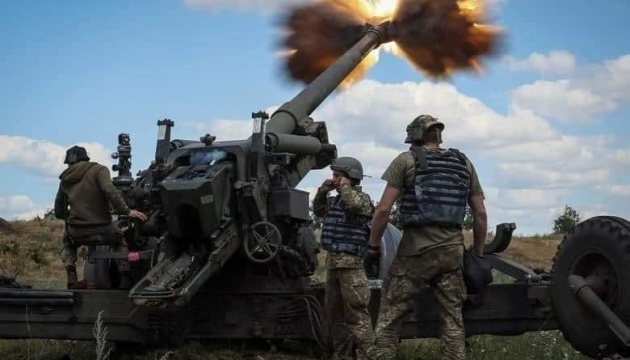 In southern Ukraine, defense forces attack two Russian fortresses and destroy two ammunition depots
Over the past day, the Ukrainian military eliminated 35 Russian invaders and also attacked 11 units of enemy equipment and two ammunition depots.
That comes from an update from Operational Command South, reports Ukrinform.
"The situation in the southern region's zone of operations remains difficult, albeit controlled. The enemy continues to conduct hostilities along the occupied lines of defense. There were no significant changes in the composition and positions of the invasion forces. Unsuccessful on land, the Russians have been active in aerial reconnaissance, including using various air attack vehicles, the statement said.
Also read: Eighteen pilots have awarded the title of Hero of Ukraine since the launch of the full version War
Throughout the day the enemy attacked the positions of the armed forces along the line of contact with drones, pairs of helicopters and a fighter-bomber firing a Kh-59 air-to-surface missile. In the evening hours, the enemy attacked infrastructure facilities in Nikopol with unguided rockets fired from a Mi-24 helicopter. A building was destroyed; No casualties were reported.
Army Aviation of the Armed Forces of Ukraine hit three enemy strongholds in soldateske and Oleksandrivka, and a cluster of enemy manpower, weapons and equipment in Vysokopillia.
The following Russian losses inflicted by Ukrainian jet artillery units were confirmed: 35 soldiers, one Msta-B howitzer, one self-propelled artillery gun Nona, nine armored vehicles and trucks. Two ammunition depots at Dudchany and Davydiv Brid and a field supply point at Voskresensky.
"An 11-member naval group of the enemy fleet remains near the Crimean coast, while three missile carriers, one of which is a submarine, have two dozen Kalibr-type missiles ready," the command added.
Also read: Ukrainian troops continue preparations for counteroffensive – intelligence
As reported, from February 24 to August 27, the Armed Forces of Ukraine eliminated 46,500 Russian invaders.
Photo: General Staff of the Armed Forces of Ukraine