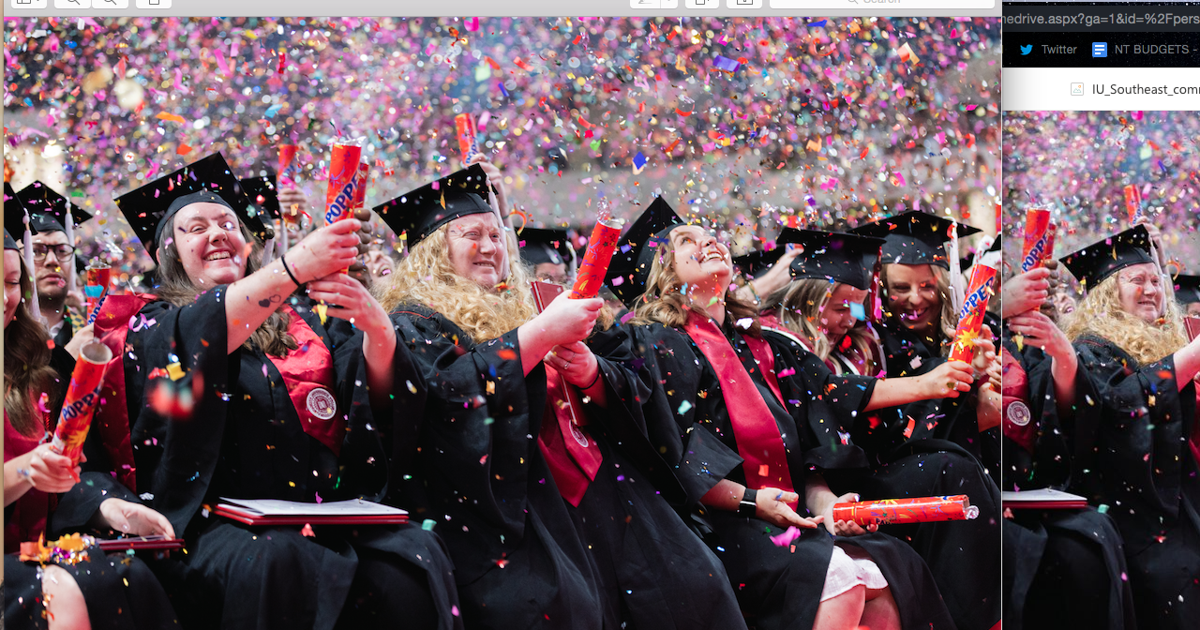 'Male College Crisis': Male high school seniors go to college at much lower rates | news
Nationally, it's been described as the "men's college crisis," and Indiana is not immune to the trend. Male high school graduates are far less likely to go to college than females, and the gap is widening.
Indiana higher education officials describe this as "a worrying gap… This is the first time in recent history that the male college enrollment rate has fallen below half (46%)" in relation to high school -Graduating class of 2020.
In contrast, the 2020 college-going rate for Hoosier women was 61%.
The report focused on the overall decline in college enrollment, with just 53% of Indiana's high school graduates going to college in 2020, a one-year drop that Chris Lowery, Indiana's new commissioner of higher education, called "alarming " was designated.
The gender gap, part of the report, "got a lot of people's attention," Lowery said in an interview.
The commission examines the data and possible reasons why fewer men choose college, defined as the full range of credentials beyond high school, including credentials from less than a year to a four-year degree.
Possible reasons include affordability issues and a perception that it's too expensive, Lowery said. Some may not see the value of college or question if it has the professional relevance it has had in the past.
But if you look at economic data, including unemployment, labor force participation and wages, "it's worth it quantitatively," he said.
"There are clear economic benefits that come with higher levels of education. People with a bachelor's degree or higher are more likely to be employed and participate in the labor market, and have significantly higher wages and greater overall wealth," Lowery said.
The topic is important for those affected as well as for the state and the economy. Among those not pursuing post-secondary education, "that person's prospects for lifelong economic and social mobility become more limited," Lowery said.
That doesn't mean someone can't be successful, he said, "but statistically the prospects for social and economic mobility are diminishing," he said.
The decline in male college participation is also important to Indiana's economy and employers' ability to have the talent they need in a tight job market. "Indiana has a booming economy," Lowery said, but the decline in male college participation is compounding the challenges and availability of that talent pool.
Among the organizations taking notice is the Indiana Chamber of Commerce.
Indiana's overall decline in college enrollment, particularly among Hoosier men, "is a cause for serious concern in an economy that strongly favors educated workers beyond high school," said Jason Bearce, vice president of the state Chamber of Education and staff development.
Businesses today look closely at state and major city literacy levels when deciding where to relocate or expand their businesses, "so we really need to flip those numbers to keep Indiana competitive," Bearce said.
search for answers
Rachel Meyer, a regional public affairs coordinator for the commission's western Indiana region, assists high school students with college preparation, including financial aid efforts.
She has spoken to male high school students who do not plan to go to college. "I love the students in my region. They're brutally honest, which I love," she said. "They give a lot of good feedback." Based on her conversations, she believes a major reason is that these students aren't sure what they want to do after high school and are reluctant to go to college without an "ultimate goal." to have in terms of a career.
The young men she speaks to also have concerns about the college's perceived price tag. She asks her to estimate how much tuition is at Indiana's public colleges and someone could spend $200,000 for a year.
She points out that the most expensive state college tuition is just over $10,000 per year.
Other factors also play a role. Many students are in foster care, or they may be couch surfing or homeless. Their basic human needs aren't being met, "so they don't have much room to plan or dream if they really just want to know if they're going to have dinner tonight," a place to sleep, or a chance to shower, Meyer said.
The challenge is, "How do we give them the desire to think about the future when the present is so urgent and they have a lot on their mind, a lot on their heart," Meyer said.
For those who have decided against pursuing post-secondary education, she knows many can go into the military or trade and have "pretty lucrative careers."
The Commission continues to investigate why young men don't go to college and what they do instead.
Other perspectives
In a November 2021 article for Inside Higher Education, Angela Baldasare wrote: "Although the exact causes of this trendline are difficult to pinpoint, the pressure on men to work and perform is frequently cited, as is the campus climate and services they are not tailored to men, heightened insecurity during the pandemic, negative impact of the pandemic on career choices, reluctance to take online courses, and lack of internet access and/or technology."
Insight into Diversity, in a March 16 online article, suggests that the pandemic appears to have made inequality worse, particularly for people of color and those from underserved backgrounds in both urban and rural areas.
"Many experts agree that male students need better support from early childhood," the article says. "Some theories suggest that the decline in underrepresented males begins in K-12 education, as boys overall are more likely to be held back, drop out, and struggle with reading skills. According to a study by ACT Inc., young men tend to achieve lower GPAs than young women in English, math, social sciences and science through high school."
Sylvester Edwards, a Terre Haute community leader and president of the NAACP's Greater Terre Haute Branch, suggests that young people, including men, choose not to attend college because they see no future. "So why go to college?"
He added: "I think the zeitgeist is very dark in terms of what our young people are looking at and seeing."
From climate change to US political divisions to overseas military conflicts, young people see life as "bleak to the point where they gave up," he said. "I don't know why young people are so pessimistic. Maybe it's because we didn't give them any reason to be optimistic."
Tom Steiger, a professor of sociology at Indiana State University, suggests that more young men are finding good-paying jobs in trades, becoming plumbers, electricians, carpenters, and so on.
"The harbinger of the growing gender gap began years ago but only began to express itself with the millennial generation," he said. More and more young men are opting for trades.
Obama-era politics emphasized craft training, as did the Trump administration, Steiger said. Add a restructured immigration policy, and "men only respond to the market and a culture that defines these professions as men".
what can be done
Lowery said the response must include policies, programs and partnerships.
One policy the commission is proposing is to automatically enroll all eligible students in the 21st Century Scholars program; Currently, less than half of eligible students enroll in the program. Eighty-one percent of scholars go to college.
With regard to the programmes, the Commission recommends the extension of programs already running, e.g. B. the Indiana College Core, a 30-credit-hour block of general education credits that is transferred between Indiana's public institutions.
High school students who earn the Indiana College Core enroll in a series of dual-credit courses that allow them to earn high school and college credits at the same time.
About 90 percent of students who earned Indiana College Core in the past year progressed to the next step, Lowery said. "That is amazing."
Partnerships are also crucial, he said. Young people, or even older students, want to hear from a trusted messenger, "and that's not necessarily the government".
Partnerships can involve non-profit organizations such as boys' and girls' clubs; faith-based organizations; and employers.
As examples of partnerships, employers might host FAFSA graduation nights for employees with high school-aged children, or host college fairs so students can learn about career opportunities.
Bearce agreed that partnerships are key, especially those that offer students greater opportunities to engage in meaningful work and learning experiences before high school, including internships and apprenticeships. "A lot of male students who think it's a choice between work or more school will choose paycheck, so we need to give them relevant options to do both at the same time," Bearce said. "Employers today are so desperate for talent that they may settle for less skilled workers, but they will be much more selective as the labor market changes."