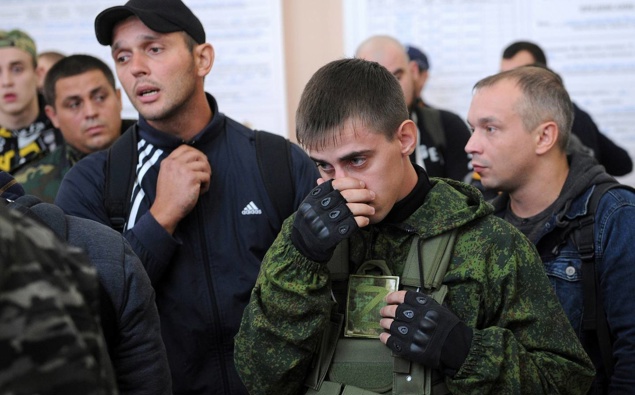 Putin's forces face "threatening" defeat as the Kremlin prepares to annex Ukrainian regions
Russia is set to annex four more regions of Ukraine within hours, fueling fears of a "dangerous escalation" in the war – but experts insist the invaders are on the verge of a massive defeat.
President Vladimir Putin will hold a signing ceremony later today, at which Russia will officially annex the Luhansk and Donetsk regions in eastern Ukraine, and Zaporizhia and Kherson in the south.
The move comes after rushed referendums were held in the regions last week, in which the overwhelming majority of votes were in favor of annexation.
However, the referendums were widely condemned as a sham, with German Foreign Minister Annalena Baerbock claiming some residents were tricked into voting at gunpoint, which she described as "the opposite of free and fair elections".
Meanwhile, UN Secretary-General Antonio Guterres recently warned that annexing the regions would constitute a "dangerous escalation" that would undermine the possibility of peace, as Russia has stated that any future attacks on the regions would be seen as an attack on Russia itself, and could even be defended with nuclear weapons.
"Putin gave us a choice – accept the violent redrawing of the border and avoid nuclear threats (for now) or reject mock referendums and help Ukraine preserve itself and its nation-state concept and accept nuclear risks," he said former US arms control official Jon Wolfsthal said in a tweet about the crisis.
But while the situation appears to be worsening, a number of pundits have claimed that Russia is indeed facing another major defeat that could turn the tables on the brutal invasion.
"Looming, Painful Defeat"
As Russia prepares to annex, Ukrainian forces have pushed ahead with plans to recapture the key city of Lyman in northern Donetsk region.
If successful, it would represent a major setback for Putin's plans for the Donbass region, which became a key focus of the invasion after Russia's early failure.
Initially, Russia had planned to capture the capital, Kyiv, and the second-largest city, Kharkiv, but the troops met fierce resistance, prompting Russia to quickly change its strategy and instead target the industrial Donbass region — including Donetsk and Luhansk – an area that Putin falsely accused Ukraine of committing genocide.
But if Ukraine succeeds in capturing Lyman, it would provide a major morale boost — and could also lay the groundwork for Ukraine to advance into the nearby Luhansk region, leaving Putin's plans for the area in shambles.
And it seems things may be moving in the direction of Ukraine, as former Swedish Prime Minister Carl Bildt tweeted: "The situation looks increasingly precarious for Russian forces in Lyman as Ukrainian forces are about to cut them off." , adding: "Another threatens a painful defeat for the invading Russian forces".
This sentiment was echoed by the US think tank Institute for the Study of War, which agreed that Russia faced "imminent defeat" at Lyman.
The panel claims Ukraine has already taken villages near Lyman, noting that Russian military bloggers this week have expressed "heightened concern" about the situation in Lyman, "suggesting that Russian forces in the area are could face imminent defeat".
"The collapse of the Lyman Pocket is likely to be very momentous for the Russian grouping in the northern Donetsk and West Luhansk Oblasts and allow Ukrainian troops to threaten Russian positions along the western border of Luhansk Oblast and in the Severodonetsk-Lysykhansk Oblast," said the institute.
Russian recruits board a bus near a military recruitment center in Krasnodar, Russia. Photo / AP
Relatives say goodbye to Russian citizens drafted during the partial mobilization as they leave for their military units. Photo / Getty Images
"Additional Russian casualties would further undermine morale amid the country's mobilization."
It added that Russia is relying on "newly mobilized and undertrained" recruits to bolster "heavily degraded remnants of various units" previously thought to consist of Russia's best fighters.
And it's not just Western sources talking about Lyman, as the Moscow-based city chief admitted yesterday that Russia is finding it increasingly "difficult" to hold the territory in the face of Ukrainian encroachments.
New threat to Putin
As Ukrainian forces threaten Putin's election campaign, the leader also faces an unprecedented threat from within.
Russian recruits gather at a military recruitment center in Bataysk, Rostov-on-Don Region, south of Russia. Photo / AP
According to a damning new poll by the independent Russian Levada Center, a majority of Russians do not support the president's decision to force 300,000 reservists into combat as more citizens become convinced the war is not going their way.
The mobilization of reservists — including retirees — provoked fear, alarm or shock in 70 percent of respondents, with 66 percent believing Putin could eventually expand the mobilization nationwide.
military training center at the mobilization center in Moscow. Photo / Getty Images" class="lazyload" data-src="https://www.nzherald.co.nz/resizer/xxeSa6B3d9MyPTTjTDm66mvUN7E=/1440×1000/smart/filters:quality(70)/cloudfront-ap-southeast-2.images.arcpublishing.com/nzme/B2FNJYYBS6WPSLVOMESXRI36OU.jpg"/>
Muscovites are waiting for their departure to the military training center at the mobilization center in Moscow. Photo / Getty Images
Meanwhile, 31 percent believe the invasion will fail, with almost half supporting peace talks, and a separate Levada poll also found that Putin's approval rating has fallen as a result of the mobilization.
Important announcement within a few hours
A signing ceremony on the incorporation of Luhansk, Donetsk, Zaporizhia and Kherson into Russia will be held at 3:00 p.m. Russian time (1:00 a.m. New Zealand time) in St. George's Hall of the Grand Kremlin Palace.
"Separate agreements will be signed with the two Russian-backed separatist leaders from the east and the two Russian-appointed officials from the south," Kremlin spokesman Dmitry Peskov said in a statement.
He added that the ceremony will be followed by an "extensive speech" by Putin himself, which will be closely watched by experts for clues as to his planned next steps as the invasion rages on.
– Alexis Carey, news.com.au