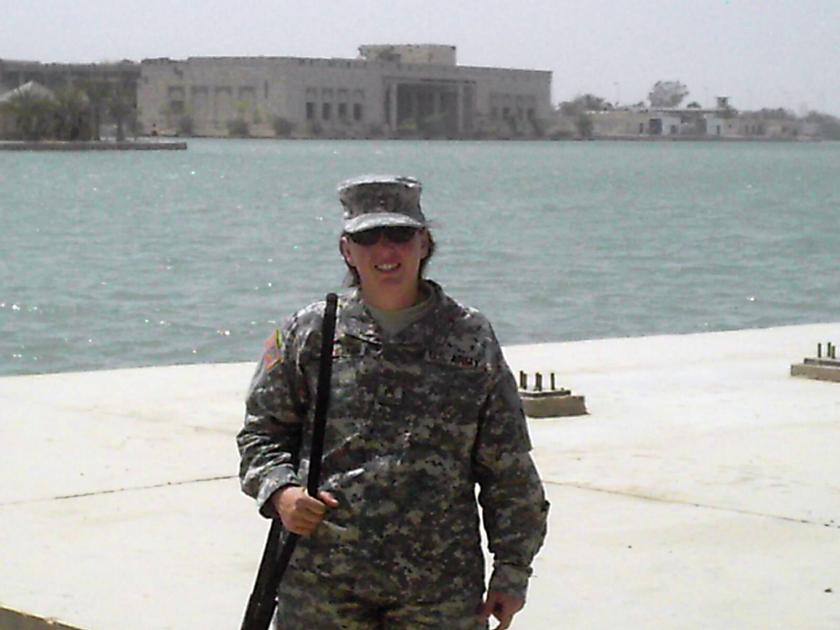 Veterans Day Special for Husband and Wife | news
Mike and Leslie Heshelman have served together for over 40 years. Both spent years in the National Guard, including extended periods of full-time service and overseas assignments. The reason for both was simple, a desire to serve the people.
"There was a recruiter who was a friend of my father's trying to get my brother to join the National Guard," Mike said. "When I got the chance, I joined in 1981 and started basic training in 1982. First it was about spending one weekend a month for 20 years and then retiring. When I got involved, it was more about giving back to the community and the people who needed help. We were called to do a lot of work on the dikes during the Elnora and Hazelton floods. For me it became an opportunity to leave my everyday life and do good to people. "
"I grew up in a family that learned to help others," says Leslie Heshelman. "I wanted to be part of something bigger that could do more. The military was a way for me to do that. "
Leslie Heshelman's military career came to an end almost before it even began.
"I've tried three times to join the National Guard," she said. "The first two were turned away because of my eyesight. On the third attempt I was granted a waiver. "
Leslie joined in 1990 and almost from the moment she signed up for duty, the United States was at war.
"I was sent to New Jersey for primary care," she said. "Almost the second we got off the plane, there was an announcement that the first Gulf War had begun."
The beginning of the Gulf War marked a change in the way the US military operated and how the National Guard participated in the defense of the country.
Most units of the Guard have not been in active military service since World War II. But as the wars in Iraq and Afghanistan developed, the National Guard became part of the active armed forces. It ended up with both Mike and Leslie being sent overseas.
"We were activated in 2002 and dispatched to Iraq in 2003," said Mike. "We were sent to Camp Atterbury for training. While we were there, we received orders to go to Iraq. We couldn't go home and tell the family personally. And we knew that the area in which we were deployed was a hotspot. "
Mike and Leslie Heshelman were married in 1994 with children at the time of posting.
"It's a lot easier to use than staying at home," said Leslie.
"If you are the one deployed, you will be sent out for training," added Mike. "You think about the mission and what to do. Your time is being consumed by what you are going to do with your device. When you are on the job, you have to deal with what lies ahead of you every day and work with the other members of your unit. "
Being the spouse left behind in the states became a struggle of its own.
"You're trying to take care of everything at home," said Leslie. "Sometimes you can't and have to ask friends and family for help. The big thing is worry. You know your spouse is in Iraq and every time you hear about something, worry begins. It is much more difficult for the spouse at home. "
The couple tried to keep communication lines open during the missions. Often with phone calls that had to be adjusted due to the time difference between Indiana and Iraq.
"We set up a video conference one time and Leslie and the boys went to Bloomington to make the call," said Mike. "My oldest son didn't want to talk to me. He was angry that I had to go and wasn't home. It made me think about what I was doing. "
Two years later it was Leslie who went overseas. She was a paralegal and worked for the Air Guard in Baghdad.
Mike had retired after 24 years with the Guard, had served 20 years of active service the year before and had just entered the Daviess County Sheriff's Department.
"When you are deployed, the members of your unit become more than your friends, they become close like family," said Leslie. "You lean on them and they lean on you."
Leslie's job in Baghdad was to accompany foreigners who were in the American zone.
"I met this one man who was in Saddam's army," said Leslie. "He had been shot twice and I asked him why he was continuing and he told me he could either serve in the army or be killed by Saddam. He said that when he saw coalition forces march in, he finally felt he could see a future for his children. That really stuck with me. "
Mike had a few distractions while Leslie was out on the job. As a recently hired deputy, he was on the cemetery shift. During this time he also completed his academy training.
"Back then, the academy helped me focus on something else," he said. "That helped me keep my head clear. I also became part of a new family as a member of the Sheriff's Department. Although I was older, they took me in without any problems. "
Both Mike and Leslie point out that they both enjoyed the sense of camaraderie they experienced in the military.
"These are people you get really close to," said Leslie.
"We still speak to some of them from time to time," added Mike.
Another thing that stayed out of their service time was the idea of ​​being part of something bigger.
"You learn to trust people that they are doing their job and you will do yours, and together it makes something bigger than you could alone," said Mike. "I know when it was time to retire I was ready to leave the military, but I wasn't ready to leave the people."
"I have absolutely no regrets about my service," said Leslie.
Just because the Heshelmans shed their military uniforms didn't mean they'd shed their desire to serve and be part of something greater.
In addition to being part of the sheriff's department, Mike was part of the Plainville Volunteer Fire Department, where he eventually became chief.
"I joined the fire department before I retired from the military," he said. "It was another way to help and keep in touch with the community. It expanded the camaraderie. At the same time, I became part of the Indiana Guard Reserve as a volunteer. "
For Leslie, much of her post service focus has been working with veterans.
"I got involved with the VFW to help my fellow veterinarians," said Leslie. "There are many programs out there to help veterans and the people they are supposed to help just don't know them. So many of these vets have come home feeling alone. You are not and I want you to know that there is help. I also have a special place in my heart for vets from the Vietnam era. They are strong men and women who have been through a lot. "
Looking back on their service, both Mike and Leslie say the Middle East assignments were qualified highlights.
"I can tell you that my engagement has been the experience of my life," said Leslie. "But nothing I want to repeat."
"Amen to that," added Mike.